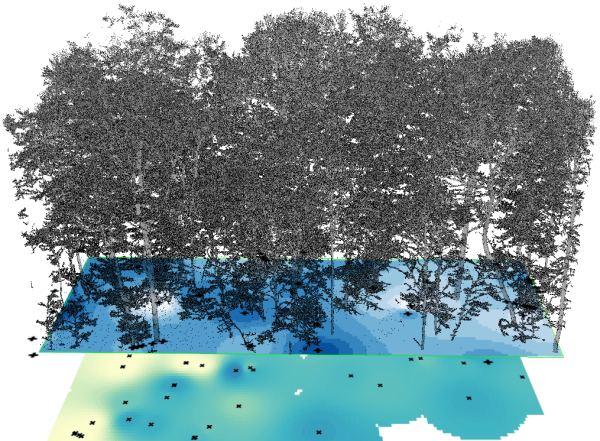 LiDAR point cloud of tree canopy, measured spatial patterns of net precipitation and soil water
Image: Shaun Levik & Marcus Guderle (MPI-BGC), Anke Hildebrandt & Johanna Metzger (FSU)
Due to interception, stemflow and canopy throughfall, precipitation reaches a forest soil surface in an altered temporal and spatial distri-bution. The retention of water by canopies is contrasted by the for-mation of dynamic hotspots. How do these processes impact soil water fluxes? Within the collabora-tive research center of AquaDiva, we assess precipitation, soil moisture and environmental properties in an extensive field study using a wire-less soil moisture sensor network. High temporal resolution soil water content data reveals flow dynamics and thus identifies preferential flow paths in the soil. Via geostatistical analysis, we will derive spatial distribution characteristics to relate net precipitation to subsurface (flow) patterns and identify their drivers.
Related publications
Metzger, J. C., N. Dalla Valle, T. Wutzler, J. Filipzik, R. Lehmann, M. Roggenbuck, D. Schelhorn, J. Weckmüller, K. Küsel, K. U. Totsche, S. Trumbore, A. Hildebrandt. 2017. Tracing spatial variation of canopy water fluxes to the soil with high resolution data. Hydrological Processes. doi:10.1002/hyp.11274.
Van Stan, J. T., Z. Norman, A. Meghoo, J. Friesen, A. Hildebrandt, J.-F. Coté, G. Moldanado. 2017. Edge to stem variability in wet canopy evaporation from an urban tree row. Boundary Layer Meteorology. doi:10.1007/s10546-017-0277-7.
Wollschläger U., D. Borchard, M. Brauns, M. Cuntz, P. Dietrich, J. H. Fleckenstein, K. Friese, J. Friesen, A. Hildebrandt, G. Jäckel, N. Kamjunke, K. Knöller, S. Kögler, R. Krieg, R. Kumar, A. Marx, R. Merz, C. Mueller, A. Musolff, H. Norf, M. Vieweg, C. Rebmann, F. Reinstorf, M. Rode, K. Rinke, L. Samaniego, H.-J. Vogel, M. Weitere, S. Zacharias, M. Zink. 2017. The Bode Catchment as part of the TERENO Harz/Central German Lowland Observatory: A platform for integrated, interdisciplinary hydrological research. Environmental Earth Sciences 76(1): Art. 29. doi:10.1007/s12665-016-6327-5.
Zimmermann, A., S. Voss, J. C. Metzger, A. Hildebrandt, B. Zimmermann. 2016. Capturing heterogeneity: The role of a study area's extent for estimating mean throughfall. Journal of Hydrology 542:781-789. doi:10.1016/j.jhydrol.2016.09.047.